VOLUNTEERING WITH YOUNG ATHLETES

Call the Y at (509) 332-3524 or email
our Volunteer Coordinator
at volunteer@palouseymca.org
for more information.

---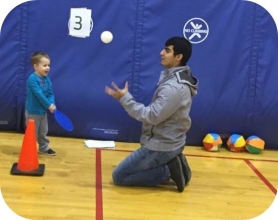 About the Program

The Special Olympics Young Athletes program is an early Special Olympics program for children ages 2-7 with and without intellectual and physical disabilities. This program meets on Saturdays, and volunteers typically accrue 10-12 hours of service over the course of a season/semester. This program fosters gross motor skills development, as well as cognitive and social skills development through participation in age-appropriate and fun activities. Volunteers work one-on-one or in small groups with children and their families, rotating through activity stations.

Applying

Interested volunteers need to fill out a YMCA Volunteer Application and submit the form to the Y (105 NE Spring St. or volunteer@palouseymca.org). Volunteers cannot participate until all paperwork is submitted to the YMCA, and an interview is conducted. These forms can be found in the resources section below. Volunteers are required to commit to a whole season. For any questions, email volunteer@palouseymca.org or call the Y at (509) 332-3524.
---


RESOURCES:

Volunteer Application