SUMMER DAY CAMP REGISTRATION IS OPEN!!
SUMMER CAMP RUNS JUNE 18TH THROUGH AUGUST 24TH.
---
Call the Y at 509.332.3524
or email directorofprograms@palouseymca.org
for more information.

---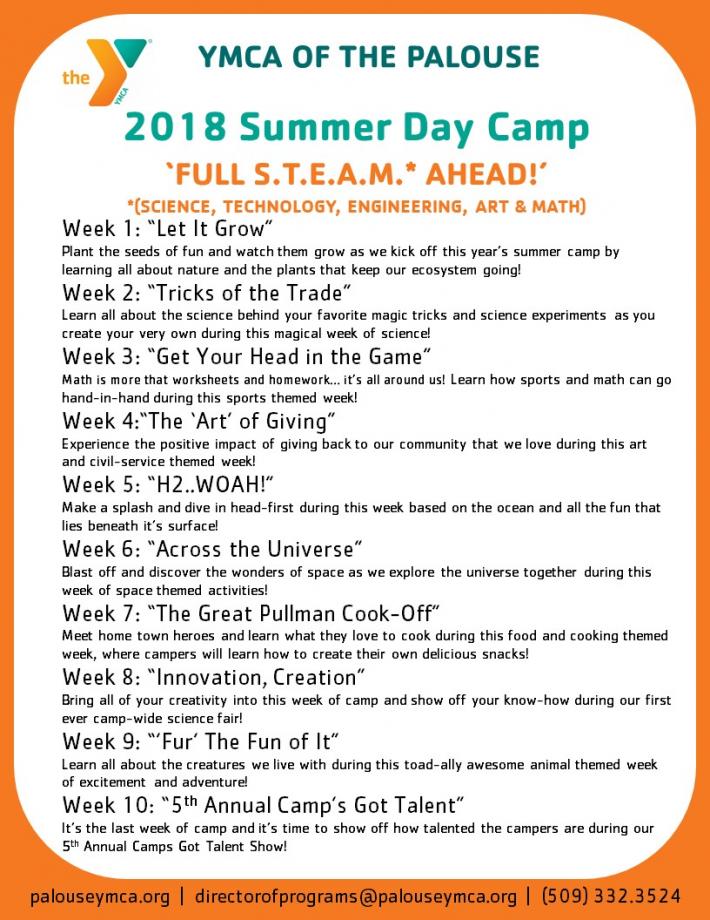 About the Program
The YMCA of the Palouse Summer Day Camp program provides ample opportunities for kids to actively engage in the world around them and their community. Our camp is values-driven, which means we emphasize core values in all of our activities, adhere to HEPA standards (see below), and focus on key development areas, particularly working to combat summer learning loss. One area that we emphasize is continued literacy development through the "Y Camp Readers" program that ensures children read for a minimum of ½ hour every day in our camp. Over the course of the summer of 2017, this translated into over 2,000 hours of reading.
The camp is held

Monday

-

Friday

from

8:00 am to 5:00 pm

at Sunnyside Elementary School. Extended hours are offered in the morning and evening, from 7:00 am - 8:00 am and 5:00 pm - 6:00 for an additional fee (see rates below).
The Y Camp Team
Our camp is staffed with people with a background and experience that helps them understand the cognitive, physical and social development of children. Staff are required to have a portable background check, CPR/First Aid, and Blood Borne Pathogens training. The staff maintains children in a safe environment, keeping them connected and supported in trying new things as well as demonstrating a caring nature and using positive reinforcement.
Meal Options, Healthy Eating and Physical Activity
Our programs align with HEPA standards (healthy eating and physical activity) where the Y focuses on healthy food options, physical activities, limit screen time and offer information to families about healthy lifestyle choices. Snack is served family-style so that participants can learn responsibility when it comes to eating habits and develops the interactive social skills necessary for communal dining.
Campers are encouraged to bring a cold lunch, and Subway sandwiches are also available for purchase. The Y offers healthy free lunches to children who qualify for free and reduced-price lunches during the school year. Please see our Y Meal Program page for more information.
Camp Groups
So that each participant can get a camp experience geared towards their developmental level, camp is divided into age groups:
Discoverers (5-7)

Adventurers (8-9)

Explorers (10-12)
There are various points throughout the day when the entire camp comes together as one group to promote cohesion and teamwork!
Camp Programming and Service Learning
Campers go on field every day, often based on weekly themes. They also go swimming at Reaney Park Pool twice a week. On Fridays, we have a camp-wide party, when campers have the opportunity to participate in competitions, fun recreational activities, and camper-of-the-week gets to "Pie the Y," an opportunity to pie a camp counselor in the face!

Every week, campers engage in service learning opportunities, which incorporate our focus on social responsibility. We encourage all of our participants to become involved members of the Palouse community. These opportunities have ranged from volunteering at animal sanctuaries, farming, parks clean-ups, and visiting local senior citizens.
Financial Assistance
The Y offers Financial Assistance for our Elementary After School program. Please see our Financial Assistance page for more information.


Payment
Payments can be made online, over the phone, in person at the Y office, or mailed to 105 NE Spring St. Pullman, WA 99163.

A 15% discount is offered for full-summer enrollment until June 15th, and 10% discounts are available for monthly enrollment, as well as early registration for weekly enrollment, due May 18th (both registration and payment are required).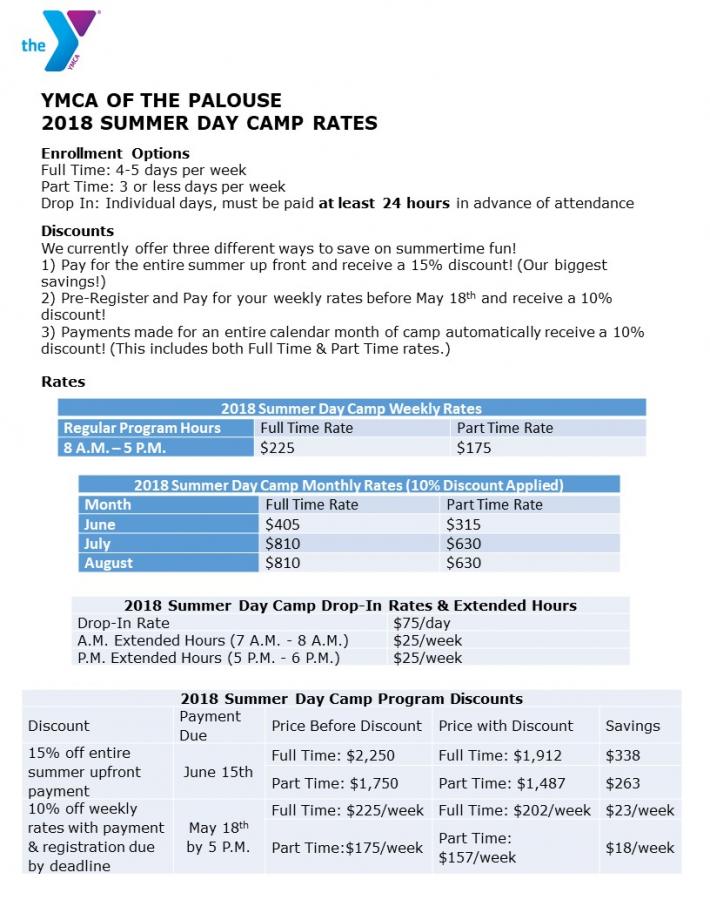 Annual YMCA Membership Fee...................................................................$50
---
RESOURCES:
Financial Assistance Form
Certificate of Immunization Status