FIND YOUR REASON TO GIVE. FIND YOUR Y.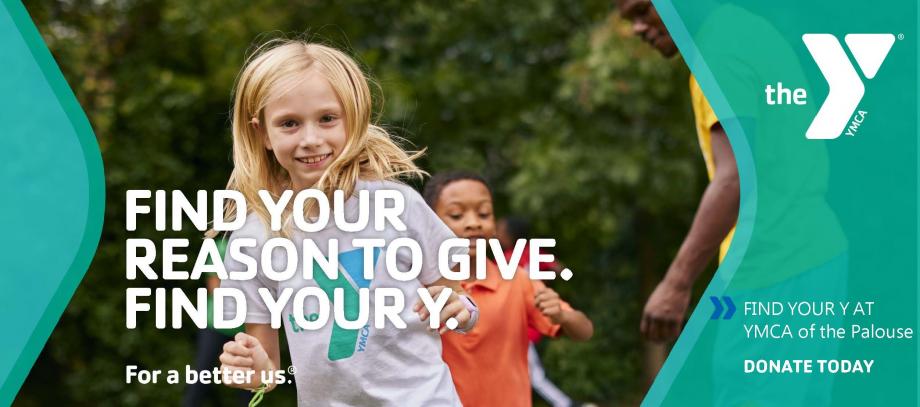 Why Giving to the Y Matters
At the YMCA of The Palouse, we're a community where all people, especially the young, are encouraged to develop their fullest potential in mind and body. With a focus on youth development, healthy living, and
social responsibility, the Y inspires people of all ages to be active and healthy, educated and engaged, building a stronger community for us all.
As non-facility based YMCA, our cause is deeper than a pool and more active than a gym. The YMCA of the Palouse currently operates six locations of before and after-school programs as well as a Spring Break and Summer Day Camp in Pullman, Washington, partnering with with local school districts, charter schools, and community centers. We also partner with our local universities offering internships, practicums, and service learning opportunities for students. Serving nearly 300 youth, many families rely on our services with over 30% needing financial assistance with no child ever getting turned away due to financial hardship. Your financial gift plays a vital role in impacting youth and families and helps provide the means for our YMCA to grow and meet the needs of our community. We appreciate your support!

If you would like more information on the impact of your donation or would like to learn how you can become involved with the YMCA, please contact Josh Paparazzo, CEO at (509) 332-3524 or email ceo@palouseymca.org.


Start making a lasting impact today by clicking the DONATE TODAY button below. Thank you!
If you wish to make a donation with a check, please make it payable to YMCA of the Palouse. You can mail your donation to our YMCA office at:

YMCA of the Palouse
105 NE Spring Street
Pullman, WA 99162